October 4, 2022 at 5:00 pm
#9431
Tignum
Topics Started 1
Total Posts 95
Hoi KolfMAKER, I believe that's three things :-)!
I indeed used tape on the inside and the outside, the cloth folds over the notches and covers them. I did it because I was afraid I could not cut clean enough to ensure perfect covering of the sharp edges of the frame. I did not put a lot of tension on the cloth that covers the notches and the cloth is thin enough to ensure that the notches still work. I actually think B&O welded the cloth to the frame.
it is just a bit of fiddling, the cloth is really strong. When you don't push it down on the tape too hard at first, you can still peel it back off and correct. I am afraid that I was giving all my attention to the job and did not take too many pictures of it.
I checked, see below – it was pre-cut, enough to do two 8000s and two 6000s with.
Akustikstoff have some info on their blog, with some images of results that look very good!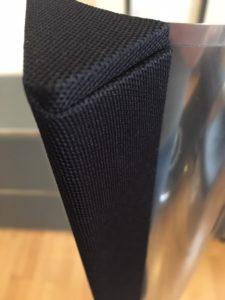 I did once read here on the forum that getting the covers to fit back 100% perfect, even when just taken off, is not an easy task. Still I think that a nice deep black reclothed fret, even when the sides and the top lid are not 100% flush, looks much better than a wrinkled, sun faded but flush mounted original.
Maybe you can make a little how to when you take on the endeavour?
Good luck, Johan