July 29, 2022 at 9:51 am
#7144

Guy
Topics Started 4
Total Posts 203
Good morning and welcome to Beoworld!
If it has a LIST button then it is almost certainly a Beo4.  I don't think that early versions (pre SW 4.4) had the MOVE function.  But if it does, here's how to use it: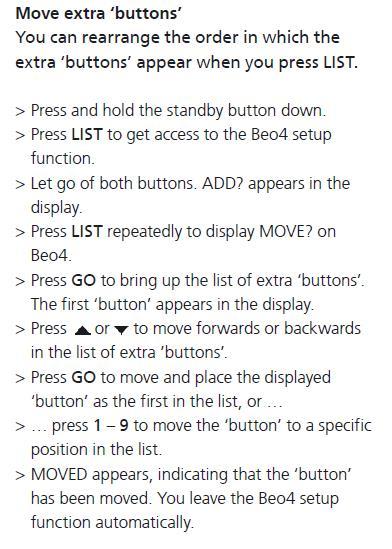 If it doesn't have the MOVE function, then you could delete all the functions from LIST and then re-add them in the order you require.
If the remote is a 'hotel' version then it may have restricted functionality and not offer many of the functions that you mention.  These usually have a slightly different button layout and a separate MUTE button.
If you are not using the TV function, there is a way to use the TV button to select the AV2 SCART input – basically by going to the TV's SETUP then SOCKETS menu and choosing 'Decoder' as the  AV2 input.  Then go to the TUNING menu, choose TV channel 1 and change the Decoder setting to 'On'.  Pressing TV will then choose the AV2 input.
This reply was modified 2 weeks, 3 days ago by

Guy

.