February 24, 2023 at 8:35 am
#16493
Tignum
Topics Started 1
Total Posts 162
Hi again,
My connection grid is indeed a bit different:
I use the LG really as the video hub (4K). I use it's internal tuner for TV content, as well as an Apple TV 4K that is HDMI connected to the LG. The BS3 is also connected to the LG with HDMI, to display the BS3 menu (depending on the type of BS3 you have, this could be a DVI to HDMI cable too).
The sound of the LG is coming from its optical out port, then using a optical to coax converter, is fed into an S/PDIF digital input of the BS3. This allows 5.1 Dolby surround sound to be played over the connected speakers of the BS3. If you have a 7.1 speaker set-up, you will need an HDMI ARC extractor and feed sound into one of the BS3's HDMI inputs. (plus maybe some help from a third BeoWorld member with that experience).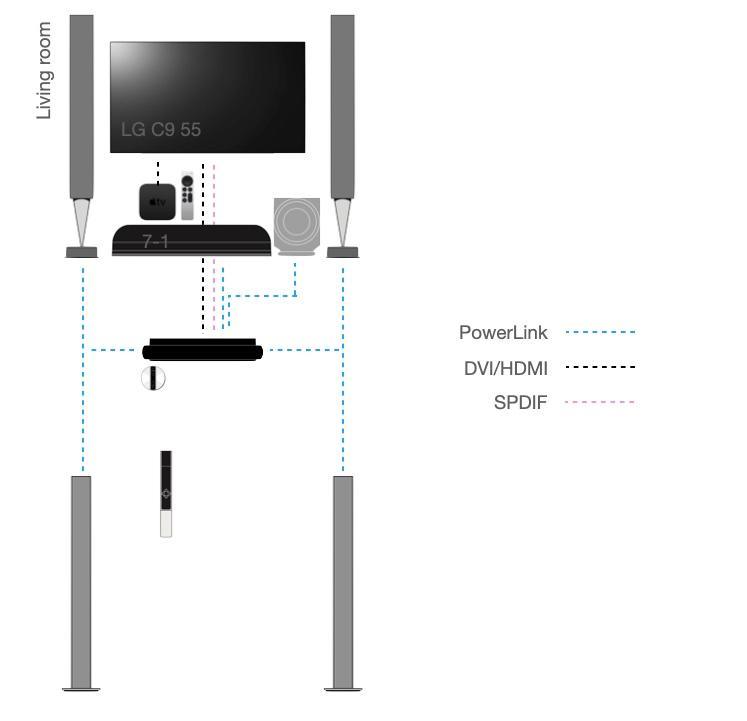 Is there an IR receiver in the BV4 panel? If so, you will need a separate IR eye connected to the BS3 to receive IR signals from your Bang and Olufsen remote control.
I am confident you can get everything working with the right cables, settings and patience. The remotes that come with the BS3 and the Sony will make it directly operational. But if you want to control everything from your B&O remote, some more efforts need to be taken as Stoobie says. Like programming the Beo5, using PUCs (and IR PUC cables) et cetera.
Johan
This reply was modified 3 weeks, 5 days ago by

Tignum

. Reason: improvement