October 27, 2022 at 10:34 am
#10260

Guy
Topics Started 10
Total Posts 386
Many thanks Keith – it's useful to know that it'll probably work if only I can get it installed and configured properly!
As mentioned, it would seem that the lack of registration means that the Beoport itself is not recognised, thus once Beoplayer is installed my CONFIG menu is missing the 'Advanced' tab where you would set up the hardware (Option settings etc).  I get no response whatsoever from Beo4 operation either .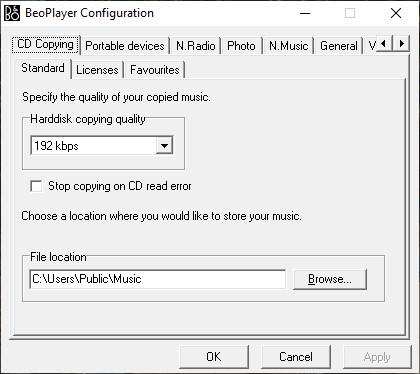 If I run that .reg file that I mentioned, all the radio stations appear within about 30 seconds (many don't work, as you have observed).  So Beoplayer itself seems fine, even on Win 10 32-bit.
So I suppose it's possible that the Beoport Registration process itself is no longer possible – i.e no longer supported by B&O's servers.  Since I last had Beoport working properly I have carried out a fresh Windows install (after fitting an SSD) , so it makes sense that I need to re-register.
So my supplementary question is:  When was the last time that anyone successfully carried out a fresh Beoplayer/Beoport installation with the registration process included?  Does anyone remember?
(And clearly I'd recommend anyone that is still using Beoport successfully not to carry out a fresh windows install, or to move to a new computer without checking that it works first!)
Lastly, if anyone out there does have a working Beoport and can test a fresh Beoplayer/Beoport installation on a separate computer (preferably Win 10) and report back then that would be much appreciated.